Introducing our Solid French Oak Flooring – a perfect blend of durability, elegance, and adaptability that can transform any space. Sourced from the finest French Oak, this solid flooring is more than just a surface – it's the canvas upon which you can express your unique design vision.
Our flooring features the ABCD grade, which encompasses a rich variety of knots, color variations, and mineral streaks. Each plank is a story – a piece of the timeless and iconic French Oak, celebrated for its superior quality and distinctive character.
Our distinct surface treatment sets our flooring apart. Each piece features unique saw marks and wire brushing, adding a touch of rustic charm while maintaining the authenticity of the aged oak. This meticulous process ensures that while each plank is unique, the overall aesthetic of the flooring remains consistent and harmonious.
To enhance the natural beauty of the French Oak, our flooring undergoes a water-based double staining process. This means that we can offer a vast range of customizable colors to perfectly match your design aesthetics. Whether you're after a warm, traditional look or a sleek, contemporary finish, we can customize our product to meet your specific needs.
Our flooring is finished with a natural UV paint, adding a layer of protection against the wear and tear of daily life. This eco-friendly finish not only enhances the natural grain of the wood but also amplifies its rich, vibrant look.
Our solid oak flooring is available in 18 x 125 x RL specs, making it an easy-to-install, seamless solution for any space. Whether you are a wholesaler, distributor, or designer, our solid oak flooring promises to exceed your expectations.
We take pride in offering customizable solutions to cater to the diverse needs of our clients. From the staining process to the surface treatment, we provide a wide array of personalization options. This means you can tailor our product to your design vision, creating a truly unique piece of flooring.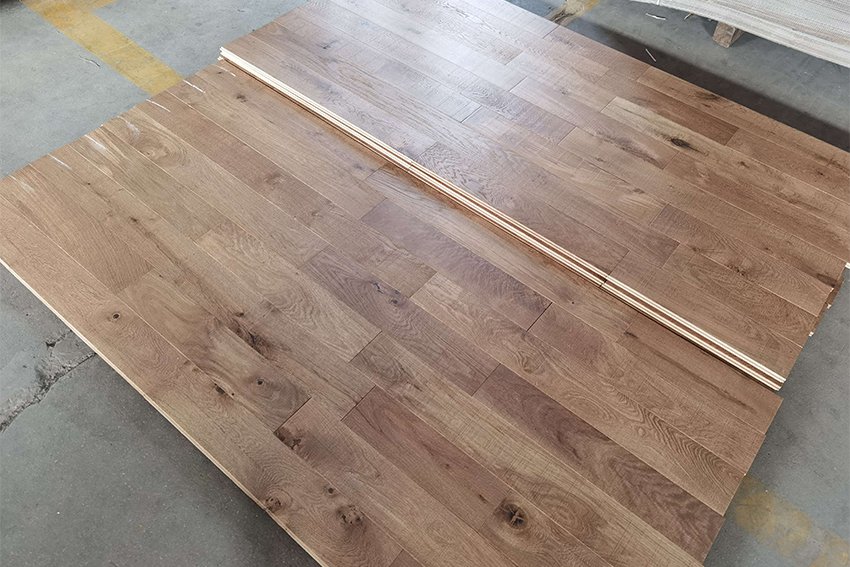 Choose our Exceptional Solid French Oak Flooring and witness the perfect blend of quality, style, and customizability. This is not just flooring – it's a foundation for your unique design dreams.