Our customizable 2-layer Solid Oak Plank Flooring is the ideal solution for those seeking high-quality, aesthetic, and durable flooring. This solid oak plank flooring, with its hand-scraped and brushed finish, embraces a blend of rustic charm and contemporary sophistication that enhances any interior space. The plank's UV lacquered finish ensures protection from ultraviolet light, adding an extra layer of resilience, and helping to maintain the floor's beauty for years to come.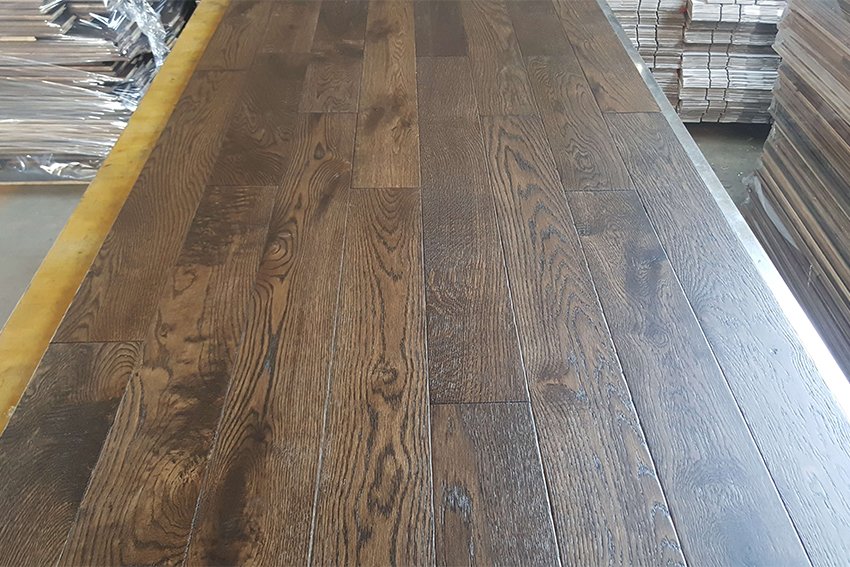 The specifications of the plank – 18/3x125x400-1500mm – offer flexibility and adaptability for any room size or design style, making it the perfect choice for both small and large-scale projects. Crafted from oak, a species renowned for its strength and durability, the plank possesses an innate ability to withstand heavy foot traffic and environmental stressors, while its ""ABCD"" grade attests to its superior quality and structural integrity.
The plank pattern of the flooring promises ease of installation with the reliable tongue and groove (T&G) system, which ensures a seamless fit and offers unparalleled stability. Despite its robust structure, the flooring maintains a refined elegance that is sure to impress. Moreover, the hand-scraped and brushed surface treatment augments the natural beauty of the oak, emphasizing its grain and adding depth and dimension to the floor.
Whether you're a wholesaler looking to expand your portfolio with top-tier products, a marketer aiming to promote a product that speaks for itself, or a designer seeking versatile flooring that can complement any aesthetic, our customizable 2-layer Solid Oak Plank Flooring is a winning choice. Its superior craftsmanship, attention to detail, and inherent durability make it an excellent investment for any business, promising customer satisfaction and longevity.
This product stands as a testament to our commitment to quality and our ability to offer tailor-made solutions to meet diverse requirements. We invite you to explore this exquisite flooring option and discover how it can transform any space into a work of art. As we always say: our products are not just about the material, but the potential they hold for creating beautiful and inspiring spaces.