In an arena where design and durability intersect, the flooring chosen by wholesalers, distributors, and designers plays a pivotal role. It's not just about laying down a foundation; it's about creating experiences, defining spaces, and shaping environments that resonate with the desired aesthetic. This guide will unveil the unmatched splendor of the "Selected White Oak Engineered Flooring," a product that's more than just wood—it's a statement.
Why Selected White Oak Engineered Flooring is Unparalleled
Aesthetic Brilliance: The subtle grain patterns and rich hues of this wood add layers of sophistication, exuding a charm that complements both contemporary and classic designs.
Resilient Nature: Beyond its beauty, this flooring offers durability, ensuring a long-lasting foundation for spaces that witness countless stories
Brushed White Oak Engineered Wood Flooring
1900*190*(15/4 or 14/3mm)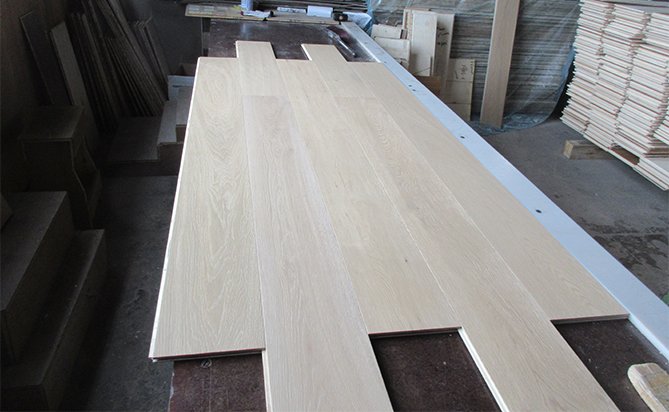 Tailored to Every Design Palette
Recognizing the diverse needs of our esteemed partners—wholesalers, distributors, and designers—this flooring range introduces an array of options:
Diverse Dimensions: With widths from a sleek 120mm to an expansive 260mm and thicknesses spanning 12mm to 15mm, every space, big or small, finds its match.
Veneer Varieties: Choices of 2mm, 3mm, and 4mm veneers allow for a play of shadows, light, and texture, granting each floor a unique personality.
Premium 125mm 45° Chevron Wood Flooring
Premier ABC-Grade 3-Layer Engineered Wooden Flooring: WILD GREY
Top-Grade Smoke 3-Layer Engineered Wooden Flooring
Perfect Finish: A World of Choices
A floor's finish can set the mood of a space. OEM the coating according to your market demands: Natural oil, UV Lacquered, UV oil, and Hard wax oil all available
Natural Color Engineered Wood Flooring
Invisible Finish Engineered Wood Flooring
VIFLOOR: A Partnership Rooted in Excellence
For distributors and wholesalers, consistency in quality, delivery timelines, and color accuracy is paramount. VIFLOOR ensures these parameters are met every single time, offering not just a product, but a commitment. With a transparent view of the production