Our solid French oak flooring is the ultimate choice for those seeking a sophisticated and timeless addition to any space. The flooring is sourced from high-quality French oak timber, ensuring a durable and reliable product with an AB/CD grade that showcases the natural beauty of the wood.
The surface of our flooring is meticulously hand-scraped and brushed to enhance the texture and character of the wood grain. The addition of 30% circular saw marks adds a rustic charm and a touch of authenticity to the flooring, creating an eye-catching visual appeal that will make any space stand out.
The reactive staining process, known as ""Chemical Aging,"" gives our French oak flooring a distinctive and alluring color variation. This innovative process reacts with the natural tannins present in the wood to develop a rich and deep color palette, making each plank truly one-of-a-kind.
To protect the flooring and ensure a long-lasting finish, we utilize a high-quality, natural UV-cured lacquer. This lacquer preserves the wood's natural beauty while providing a resilient barrier against everyday wear and tear.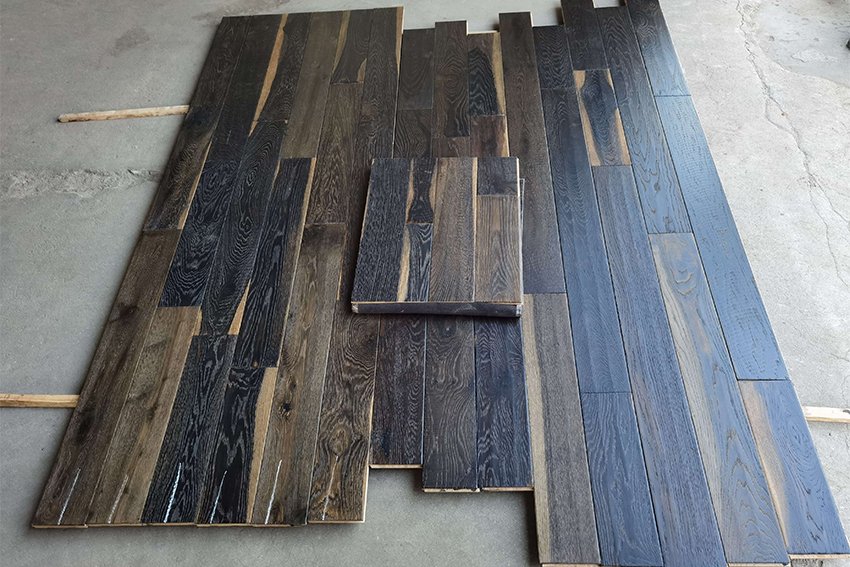 Our solid French oak flooring comes in dimensions of 18 x 125 x random lengths (rl), allowing for versatile installation options and unique design possibilities. This makes our flooring an ideal choice for wholesalers, distributors, and designers who demand excellence in both form and function.
In summary, our solid French oak flooring is the perfect solution for those looking to invest in a high-quality, stylish, and durable flooring option. With its distinctive hand-scraped, brushed, and saw-marked finish, reactive staining, and UV-cured lacquer, you can be confident that our flooring will not only look stunning but also stand the test of time. Don't miss out on the opportunity to elevate your flooring projects with our exquisite solid French oak flooring. Contact us today to discuss how our top-of-the-line product can meet your needs and exceed your expectations.