Our Finger Joint Oak Solid Wood Flooring is a testament to true craftsmanship. The planks, sized at 18*203*2200mm, are meticulously fashioned to meet the highest industry standards. Each piece is handscraped and brushed, accentuating the inherent grain patterns and unique attributes of oak – a process that imparts an authentic, rustic look to the floor.
The UV lacquered gloss finish, with a gloss percentage ranging from 10-15%, protects the wood from sun damage and adds an exquisite sheen to its surface, adding to the wood's durability without compromising its beauty. This striking blend of shine and matte results in a flooring solution that is as practical as it is aesthetically pleasing.
Customizability is a prominent feature of our offering. As a wholesaler, marketer, or designer, you know your clients better than anyone else. Therefore, we offer you the opportunity to tailor our Finger Joint Oak Solid Wood Flooring to match the specific demands of your clients. Whether they prefer a more rustic aesthetic or a modern, sleek look, our customizable solution provides the flexibility you need to fulfill their expectations.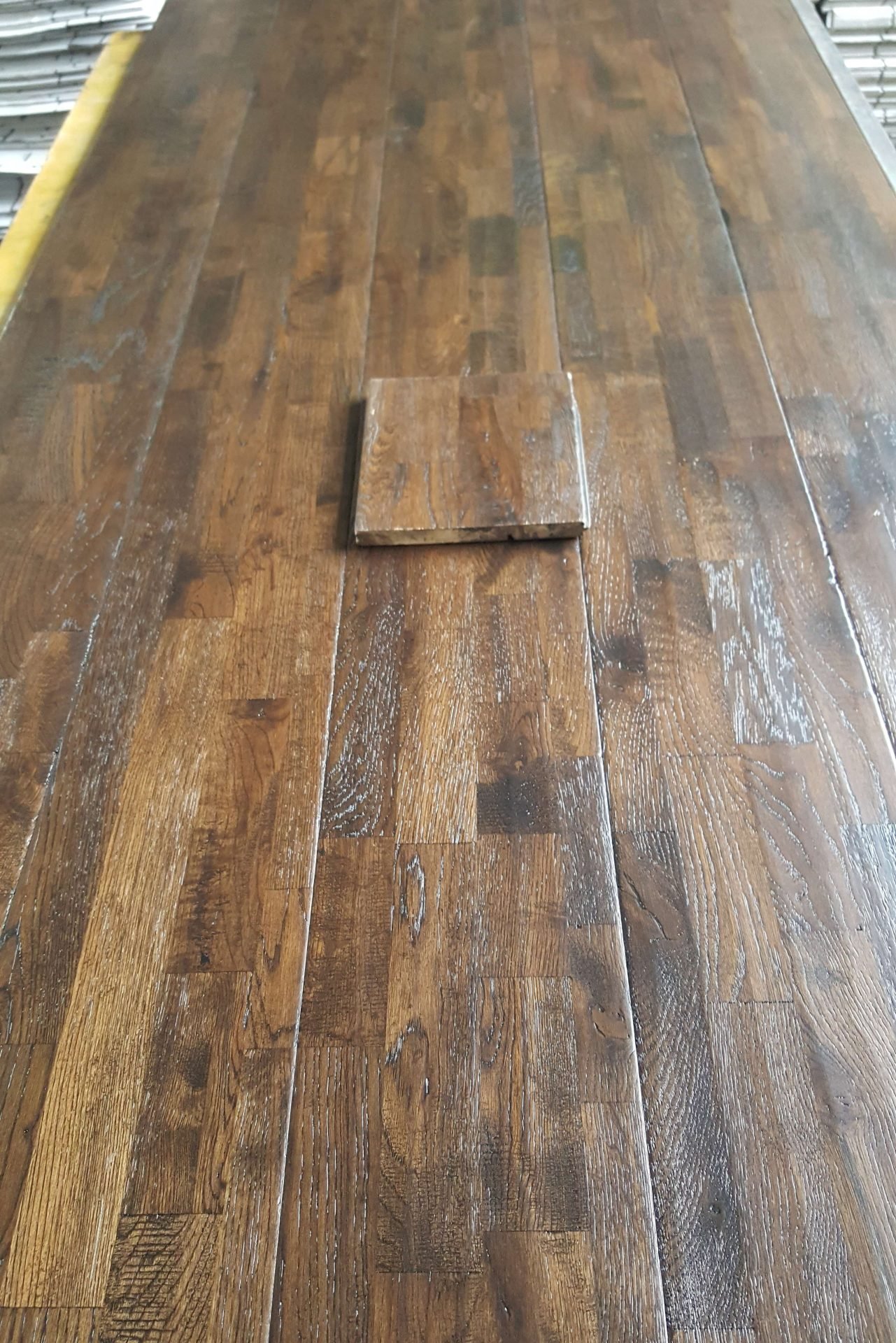 The weathered finish, an optional customization, provides an additional layer of texture, infusing the space with an air of vintage elegance. Our team of experts will work closely with you throughout the customization process, ensuring the end product perfectly embodies your vision.
The Finger Joint Oak Solid Wood Flooring is more than just a floor covering – it's a design statement. It's an embodiment of your commitment to providing your clients with the finest, most authentic products in the market. So why wait? Choose our flooring solution and elevate your business to a new standard of excellence.
If you're a wood flooring wholesaler, marketer, or designer in search of premium, customizable products, look no further. We present to you our Finger Joint Oak Solid Wood Flooring – a product that blends quality, elegance, and customization to a level of perfection.
We understand that every client is unique, and so are their flooring needs. That's why we offer customizable options that allow you to deliver a product tailor-made to your clients' tastes and preferences. Our quality wood flooring has the potential to be a cornerstone in your offerings, guaranteeing client satisfaction and business growth.
By choosing our product, you get more than just quality flooring. You gain a partner dedicated to helping you stand out in your industry, thanks to our high-quality, custom-tailored products. Allow us to join you in your journey towards success and watch as your business takes flight with our Finger Joint Oak Solid Wood Flooring.