Introducing The World's Most Popular Engineered Oak Flooring:
VIFLOOR 190x1900x14/3
We are proud to present our top-selling engineered oak flooring, the VIFLOOR 14/3x190x1900, which has gained immense popularity across the globe. With a width of 190mm (7.5′), this flooring offers the perfect balance between style and durability, making it the ideal choice for wholesale customers looking for an exceptional product at a competitive price.
Key Features:
Sliced Cut Veneer: We utilize the sliced cut veneer technique for our engineered oak flooring, ensuring a smooth and even surface that showcases the natural beauty of the wood.
Meticulous Raw Material Selection: We carefully handpick each piece of raw material, striving to avoid any pink or reddish hues that may be present in the wood. This commitment to quality ensures that our customers receive a consistent and visually appealing product.
Brushed Finish: Our VIFLOOR 14/3x190x1900 engineered oak flooring is finished with a brushed technique, enhancing the wood's texture and grain pattern while providing an elegant, timeless appearance.
PPG Lacquered Finish: To protect and preserve the beauty of the flooring, we apply a high-quality PPG lacquered finish. This durable coating offers excellent resistance to wear and tear, ensuring that your floors maintain their stunning appearance for years to come.
Customer Satisfaction: The VIFLOOR 14/3x190x1900 has consistently received high praise from our customers, further solidifying its status as a top-selling and highly sought-after engineered oak flooring option.
In conclusion, our VIFLOOR 14/3x190x1900 engineered oak flooring offers the perfect combination of style, durability, and affordability. By choosing this product, wholesale customers can be confident in providing their clients with a high-quality flooring option that has garnered worldwide acclaim. Don't miss out on the opportunity to offer this outstanding product to your customers – contact us today to learn more about our competitive pricing and availability!
190mm Width Invisible White Oiled Engineered Oak Flooring
190mm Width Invisible White Oiled Engineered Oak Flooring Product Quality Survey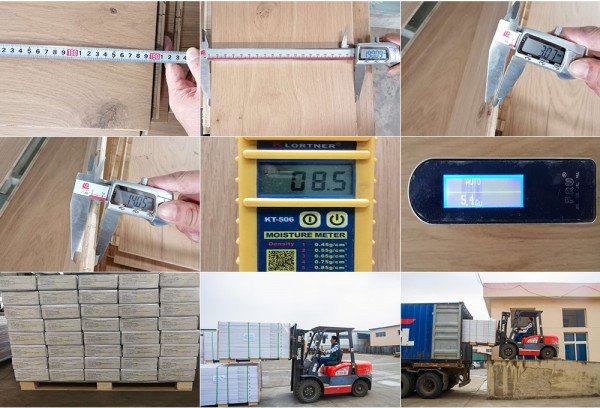 Our Product Certifications